Well, here we are rounding the corner to March...tomorrow is March 1st!
In the spirit of Saturday Dog, let's talk about the last week or two and other random stuff. I relaunched my Etsy shop and already had my first sale! I'm adding things every week (I have a lot my friends, so check back often). This cute enamel pot is just waiting to go home with someone....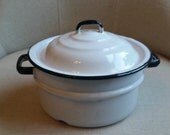 I lived up to my "

Find Money February

" quest by selling several items on Facebook and elsewhere so I'm happy with my progress so far and have no plans to stop until I achieve my goal of capturing back my garage space...capture, yes...it's like a war--really...me against the stuff.
I have a really busy month ahead with some fun time off for travel and I might even put together a porch sale near the end of the month or early in April...if I do, I'll provide the details here and on Facebook. Be sure to like me on Facebook so you can get quick updates!
I'm totally in love with these coat hooks from Rusted Roots, find out how she did them here...
picture from RustedRoots.com
Have a wonderful weekend!